It wasn't as warm as I thought it would be. In fact, it wasn't really warm at all - I ended up wearing pants and a sweater 95% of the time we were there! We had a relatively smooth flight back to Florida and managed to get there on time, with everything and NOT lost! To say that the airport in Panama City Beach is small is an understatement. We knew it was a municipal airport, but holy cow! We landed, went down the stairs on our puddle jumper (it literally had propellers on the wings) and walked straight into the airport. The airport is so tiny it has four gates, one terminal, one check-in counter, one restaurant, one waiting area, one baggage claim, one rental counter, one security check and you could walk from the gate to the baggage claim in about 45 seconds! It also had this really cool sea green and coral colored tile walls - that's right -
tile walls
- inside and out. Like we stepped back in time to the 1950s.
We drove the hour out to our time share in Destin (near Pensacola) and we ended up with a nice big condo - three bedrooms, two baths, living room, dining room, kitchen, laundry and screened patio overlooking the beach. It was way more than we needed, but nice nonetheless!
We spent the majority of the weekend lazing around our room, shopping and driving back & forth between the time share and the race location in Panama City. As for Brian's race on Saturday, November 4, 2006 - the Florida Ironman - it was a tough one. Lots of competition - I was astounded at the mass start - over 2,000+ people went into the ocean,
all at the same time
!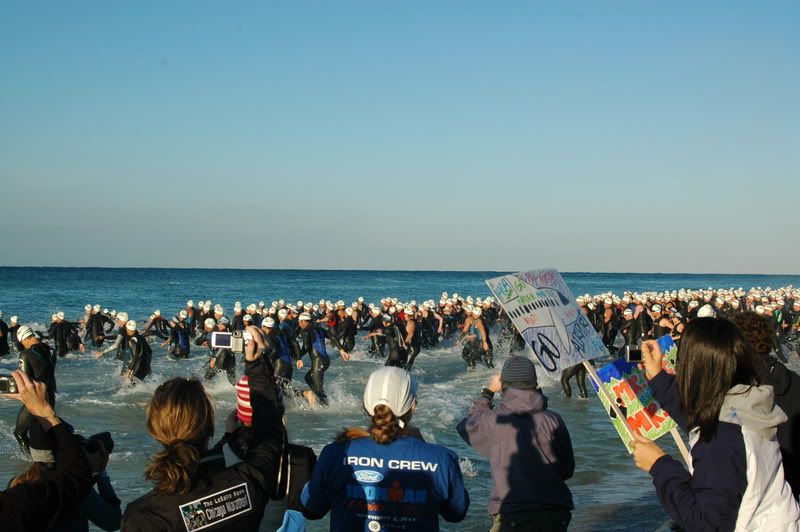 It was exciting to watch Brian hit his target times on the swim and the bike, but I could see the exhaustion in him as he finished his bike ride. It worried me, but I hoped he could rough out the marathon. He ended up coming back from his first loop of the marathon walking and decided to end his race there. It was disappointing, but a good learning experience for timing the distance between his races for what he is able to do. Here are a few pics from the race: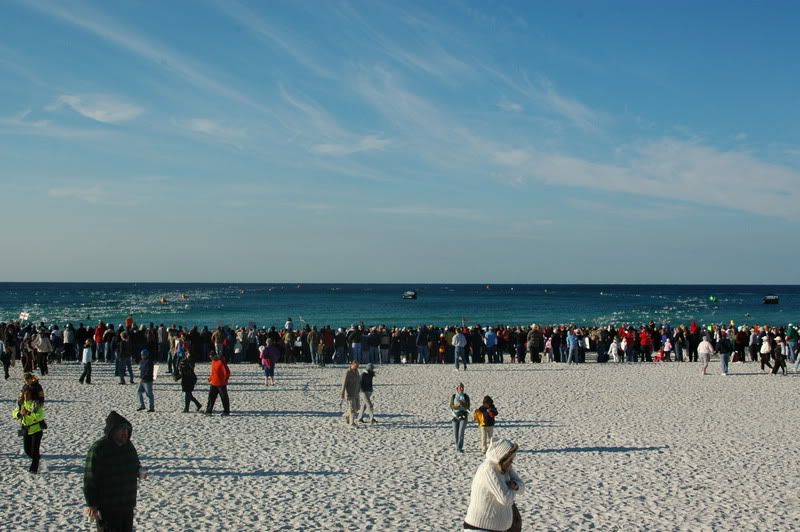 In the end, Brian decided to return to the same race next year and focus more time training & less time racing in 2007 - I guess we'll see about that! Despite the outcome of this race, we had an enjoyable weekend in Florida and look forward to returning next year. Hopefully, we'll get better weather next time! :)