Brian said that as we sat in the airport on Saturday, September 30, 2006. We had to connect through Chicago on our way to Atlanta and both of us were a little wary of going through any ordeals at O'Hare again. Turned out that saying also applied quite well to Brian's race too.
We started off our first day with all of our flights running pretty much on time. There was a small thunderstorm delay in Chicago on our way to Atlanta, which ended up delaying two of our suitcases. Amazingly though, the bike and the smallest suitcase made it. Murphy's law for you I guess! It was really funny in Chicago because we happened to see Brian's bike come off our plane from San Jose and the baggage guy grabbed it by the tag they put on it, which, of course, ripped off the barcode and identifying info. So Brian asks for the camera and proceeds to take pictures. It was hilarious and borderline humiliating all at the same time! He wanted photographic proof to nail the incompetant baggage handlers if it became necessary. Fair enough right?!
The delay in my suitcase meant I had no clothes, so the nice agent at the Avis counter gave me directions to the nearby Target and we went off in search of it. We finally arrived at our timeshare condo after dark and were very pleasantly surprised to find that it was in a beautiful community located on Lake Tara between Villa Rica and Carrolltown, Georgia, about 45 minutes from downtown Atlanta to the south west.
On Sunday we went to Six Flags over Georgia. We rode the best and worst of the US's rollercoasters and had a great time! The best was the Goliath, which we had seen on the Travel Channel being designed and built. It truly is amazing and lots of fun!
The worst was this horrible old wood rollercoaster - thought we were seriously going to be injured on it. I think we're both done with wood roller coasters for good now!
We enjoyed a nice quiet dinner for our anniversary that night.
Monday we headed over to Kennesaw National Park near Marietta, Georgia.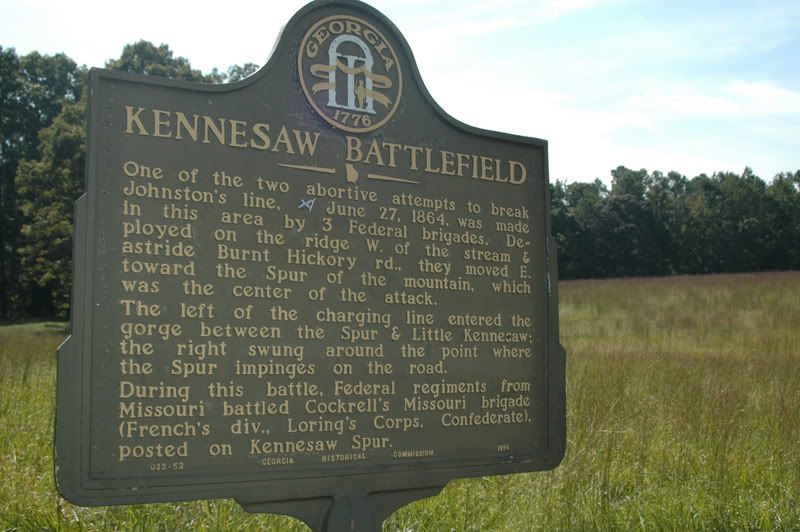 There was an extensive civil war museum, which was very interesting and the park was beautiful. What surprised us was that the landscape still shows the scars of the battles - trees damaged by cannons and gunfire, trenches left in tact. The trenches were amazing - you could easily see all the trenches from the back and sides, but if you went around to the direction the opposing side would be coming at you, the trenches were completely undectible.
We did take a little time to wander around downtown Marietta's antique shops. Loved the townsquare - it was really nice.
Brian treated me to breakfast Tuesday morning at the Flying Biscuit, which I had seen on $40 a day. It lived up to the recommendation and we both enjoyed our meals! We went the Atlanta Botantical Gardens in Piedmont Park, which we really enjoyed.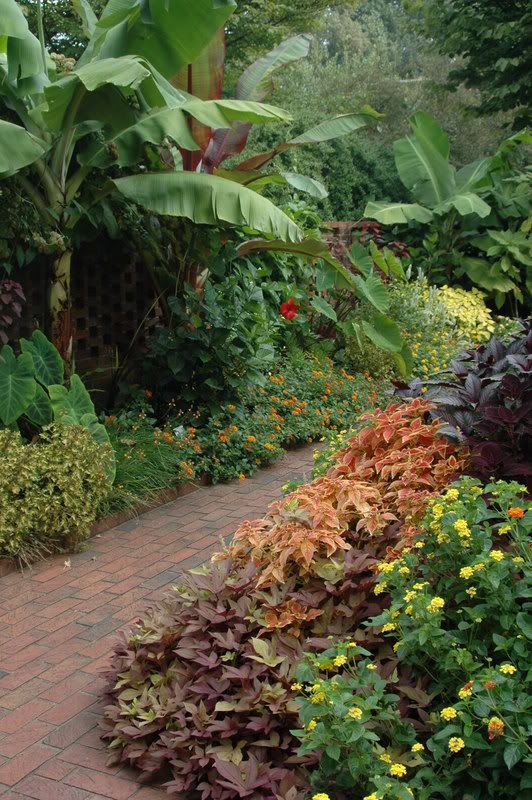 We took some of our best pictures there.
Here's Brian's best:
Here's mine:
We followed up by going to the World of Coca-Cola Musuem - Brian wanted to drink himself into a caffiene induced stupor :) The musuem was cool - a floor of memorabilia with a old fashioned soda counter, complete with soda jerk. There was also a theater which endlessly looped all the commercials, in order, that Coke has ever had. Needless to say, we skipped that, however, we did recognize the jingle instantly when we walked past the theater! The best (and arguably) worst part was the two taste testing rooms...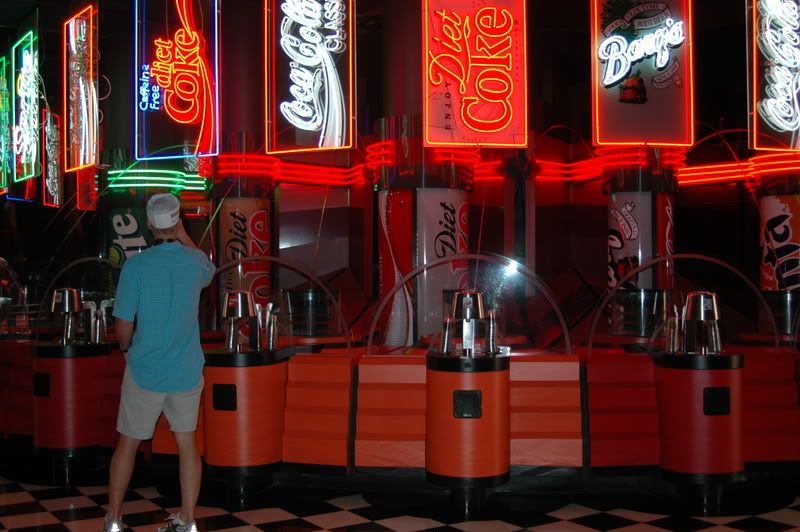 Can you tell he's drinking too much caffiene yet?! :) LOL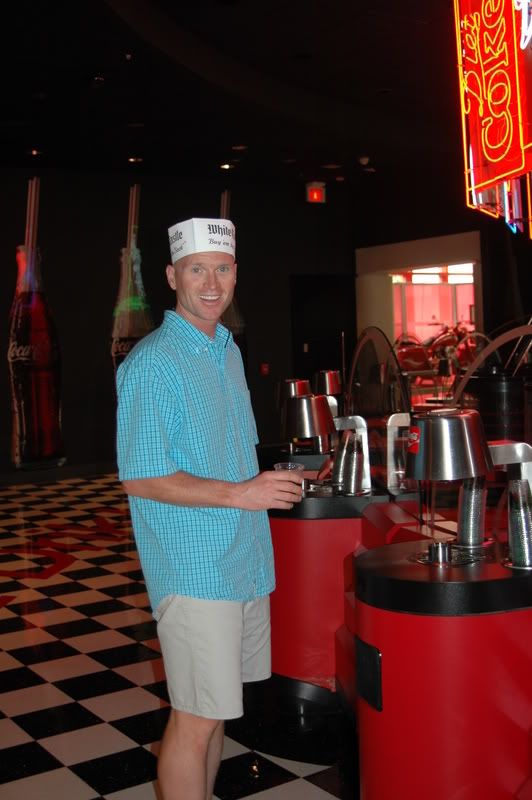 One room had sodas from the US, the other had sodas from around the world. The bottom line is mixing sodas is not such a good idea. Makes your stomach a little upset ;) Brian was taking full dixie cups of each. I only had my favorites and tried very few of the international. We had done this before at Epcot in Disney World in 2002, but I guess with time we forgot. Well, we won't forget again! The worst was "Bitter Apertif", an Italian soda. Had to drink a gallon of Sprite just to get the taste out of my mouth and I only had a sip - Brian had a whole shot of that stuff! :)
Next up was the Atlanta Zoo. Honestly, it wasn't as good as San Francisco's or even Sacramento's, but we still enjoyed it. There weren't many people, so it was easy to see the animals. The zoo has a brand new baby panda and some really cute baby gorillas, so it was worth the look.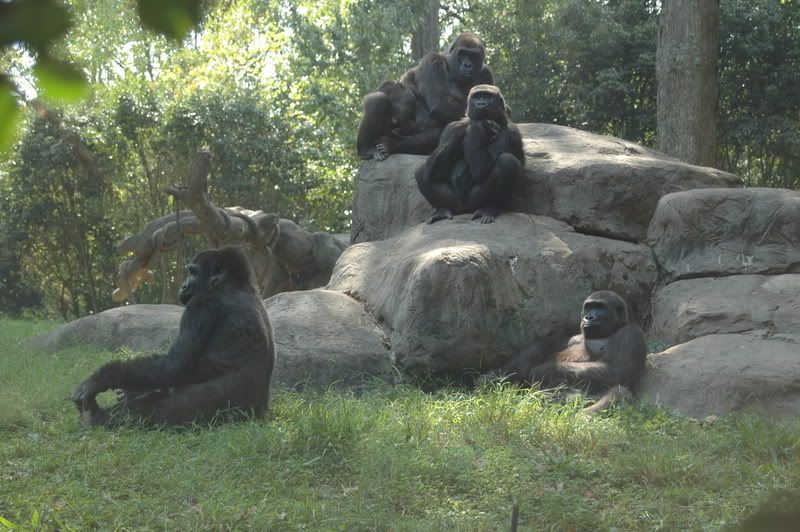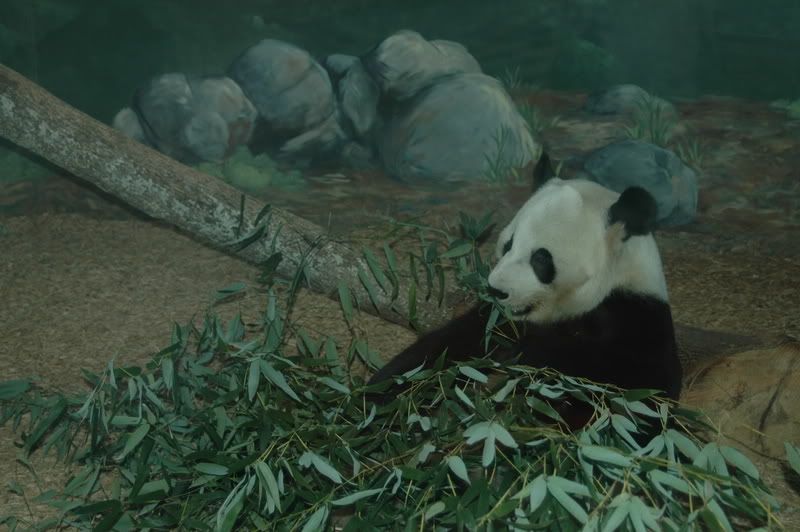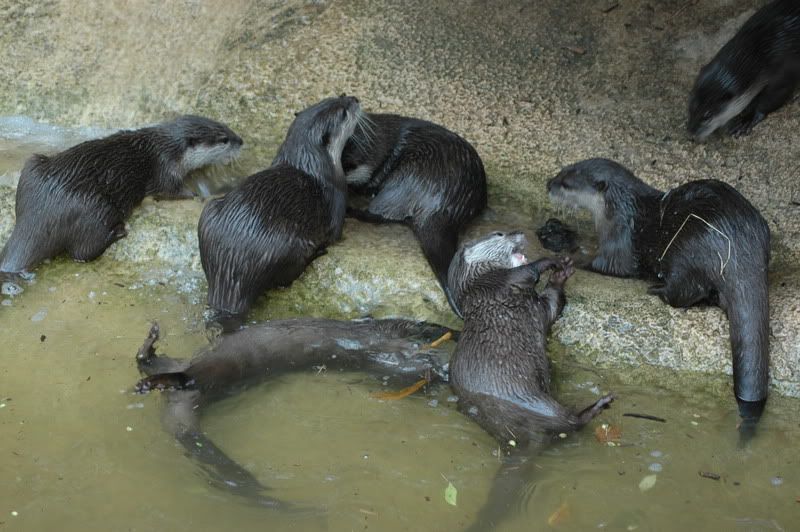 On Wednesday, we went to Stone Mountain, which was really cool.
It is over 1,000 feet tall, with a 5 mile circumference and the exposed granite actually goes about 8 miles underground. The carving in the face of the mountain is actually bigger than Mount Rushmore, if I understood the guide right! :) The carving is of Jefferson Davis, Robert E. Lee and Stonewall Jackson (I think). We took the gondola up to the top and visited the Antebellum Plantation on the grounds of the park. The plantation was really cool - they moved many of the buildings there from all over the state of Georgia. The most interesting thing we saw was a toe toaster. It was an iron contraption that toasted bread - when one side was done, they would tap one edge with their toes and it would rotate the bread to the other side - very clever!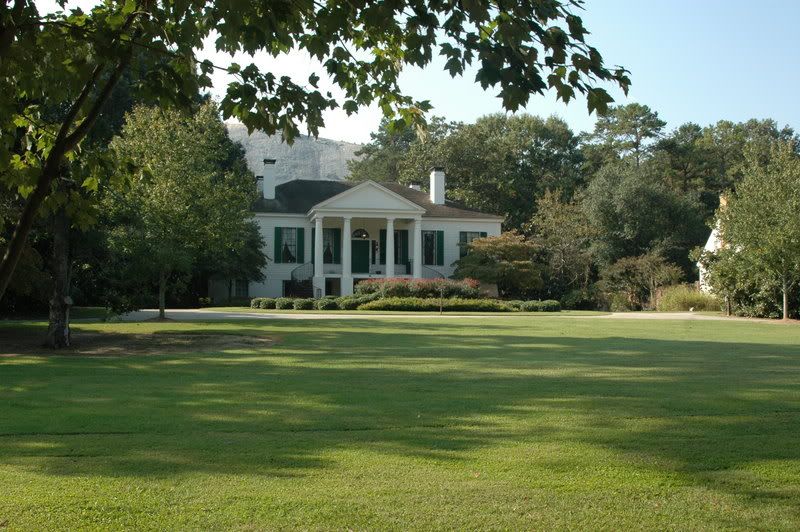 We met up with Brian's Aunt Norma and Uncle Buster for lunch, which was a lot of fun. Then we went decided to go race go karts and play mini golf. It was a lot of fun :)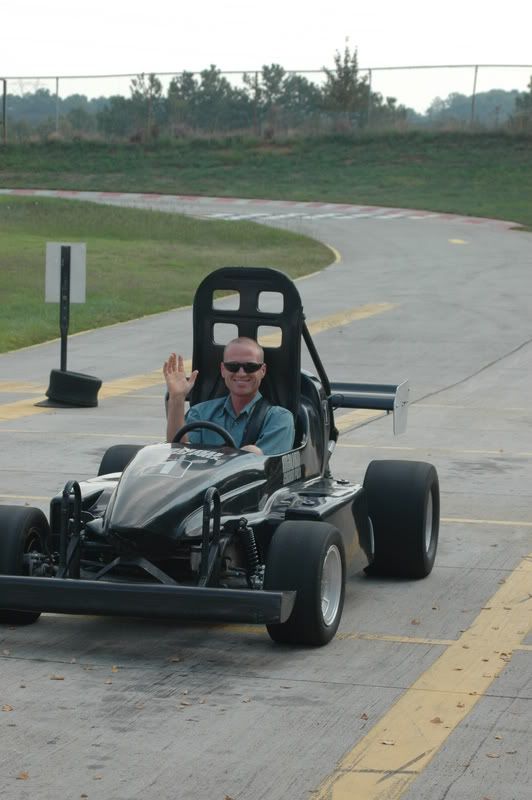 Thursday we checked out of our timeshare and went to the Margaret Mitchell House. It is a really cool museum centered around her life, the writing of Gone with the Wind and the making of the film. The actual house is where she lived with her second husband and wrote Gone with the Wind.
We spent the rest of Thursday and Friday getting ready for Brian's race and visiting with Norma, Buster, Mary (Norma's Mom), Tim, Lynn, Precious and Pumpkin (have to mention the two adorable dogs too!). Chuck, Brian's bike mechanic, arrived on Friday evening and we were ready for the race!
Brian did well (see his story about in the blog) and won his age group! :) He's officially, the 2006 World Solo Champion for the 30 to 34 Age Group. Pretty cool! :)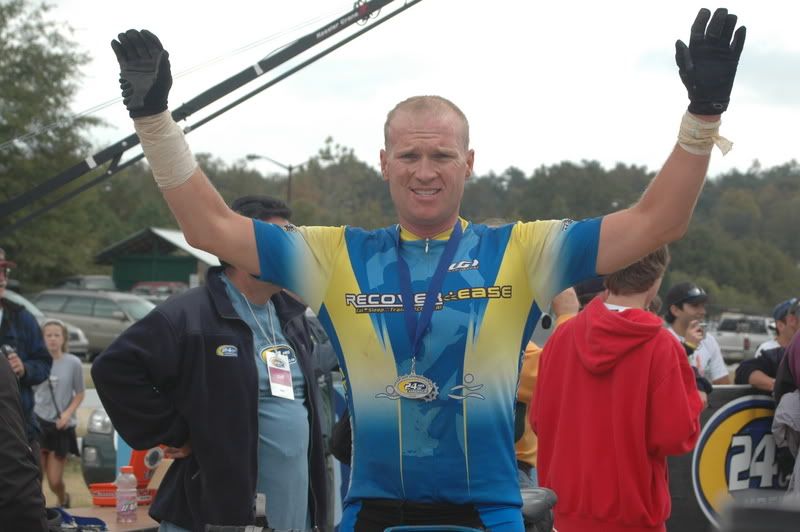 The support crew for this race....
Me, of course (my attendance is mandatory!)
Chuck, the mechanic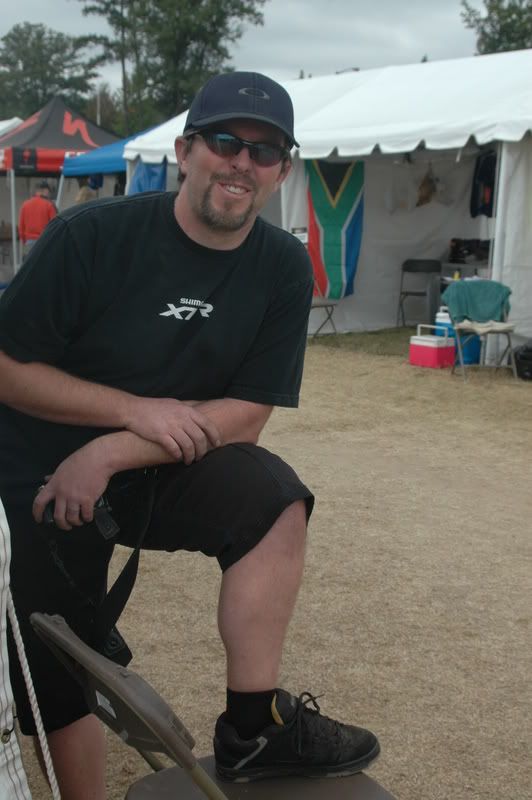 Tim & Lynn - Lynn ended up being Brian's doctor in the middle of the night when his wrists went bad on him from the bumpy, dry track:
Mary & Norma (we didn't get a picture of Norma! I don't know what happened there!)
All in all, we wish we could have stayed a few more days to visit more with our family, but we had a great time! :) In the airport the morning we left, Brian curled up and took a nap behind a pillar - it was quite the spectacle ;)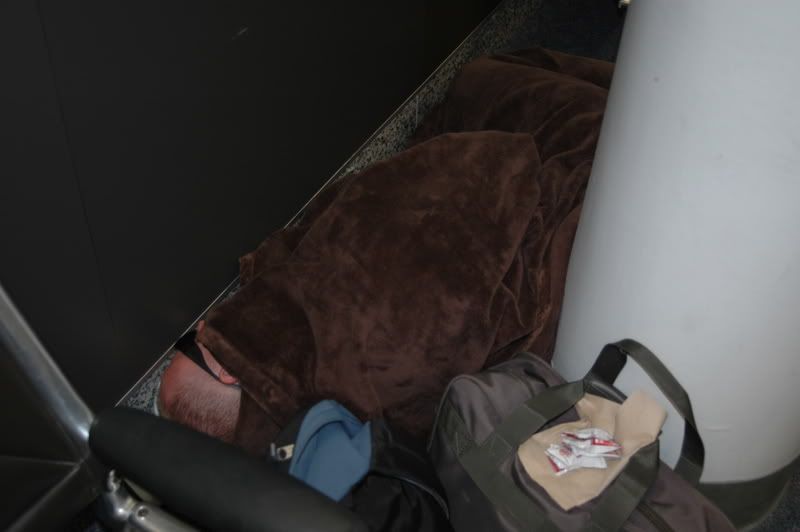 We had nice flights and naps on our way back and we hope to return to Atlanta visit again sometime soon! :)